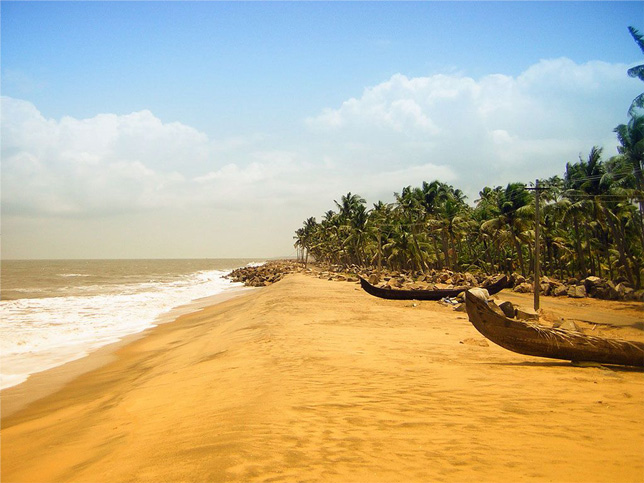 The beaches in Kerala extend to approximately 600 kms and are parallel to the Arabian coastline. Kerala has some of the best beaches which are very peaceful. The beaches of Kerala are very clean and beautiful. Out of the 14 districts of Kerala, 9 have beaches.  Beaches of Kerala are an ideal place for the tourists to spend their holidays by engaging in various beach activities, relaxing in the sand etc. It will be definitely a journey which one can cherish in their lifetime. It is best to spend the time in the beach during nights as it is more beautiful when compared to day time. Some of the sea adventures which the tourists can perform include swimming, para sailing, water skiing, fishing etc.
In northern districts of Kerala such as Kannur and Kasaragod, the mainland lies above the sea shore. Here there are many ports that were built by the foreigners in the earlier times. It is very beautiful to see the beaches from these forts. In Kozhikode district the main land is flat. A common feature that can be seen in all the beaches of Kerala are the coconut trees that borders the coastline.
There are many beaches in Kerala some of which include Varkala beach, Kovalam beach, Shankumugham beach, Cherai beach, Kappad beach etc.
Varkala beach is in Thiruvananthapuram district and a specialty of this beach is the presence of cliffs adjacent to the sea. From these cliffs mineral water with special medicinal properties comes out. This is one of the popular beach resorts in Kerala.
Kovalam beach is in Thiruvananthapuram and is one of the favorite destinations of tourists. It was the first beach that was considered as a major tourist destination of Kerala. Kovalam beach comprises of three beaches namely the Lighthouse beach, Hawah and the Samudra.
Alappuzha beach which lies in Alappuzha is a famous picnic spot. An important feature to be seen in this beach is the 140 year old pier that extends into the sea.
Cherai beach which is in Ernakulam district is an ideal place for swimming and at times it is possible to find dolphins in the sea.
Kappad beach which is locally called as Kappakadavu lies in Kozhikode and is considered to be a historic beach as it was here that Vasco da Gama had landed.  It is very beautiful to see rocks protruding into the sea in these areas.
Dharmadam island is in Kannur district and is very beautiful with a total area of about 5 acres. It is fully covered with trees and bushes.
Ezhimala beach is also in Kannur district and is a hilly area. It has an altitude of 286m and one of the major attractions here is the carved stone pillars. There are also several herbs with medicinal properties in this area.
Muzhapilangad beach is one of the longest beaches of Kerala and is situated in Kannur district. It is a drive-in beach where one can drive the entire length of the beach.